Yamaha Swingarm Chain Slider YZ YZF WRF
Yamaha Swingarm Chain Slider by UFO Plast®. Expertly crafted from high-tensile plastic...
Read full details
Product Code:
YA03809-001
Your price
Your Price
£17.79
£19.99
Save
11%
Yamaha Swingarm Chain Slider by UFO Plast®. Expertly crafted from high-tensile plastic, this top-grade UFO product provides superior quality and dependability. It has already cut-out openings to ensure quick and easy installation. Better still, this product will enhance the appearance of your bike, giving it a chance to look unique and stylish.

Established in 1977, UFO Plast has been meeting the heavy demands of top level Motocross and Supercross teams for decades. So if your looking for replacement replica plastics for your bike there really is only one choice - use what the champions use...
UFO Replica Plastics for Motocross and Enduro are the best way to get your bike looking like new again. Whether it's a Honda, KTM, Kawasaki, Yamaha, Husqvarna, or Suzuki, UFO has your off road bike covered.
Features:
All replica UFO swingarm chain slider will have the original factory shape specific to each model and year.
All Plastics are produced in Italy to the highest standards and are made from durable polypropylene.
Most model years are available in various colors.
Provides excellent quality at an affordable price.
Guaranteed to perform for a long time.
Flexible and lightweight.
All Plastics are drilled ready for Easy to install.
100% Made in Italy Since 1977

Please Note

: Images are for reference only, actual product may vary.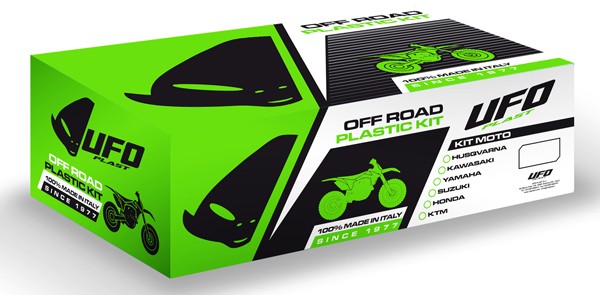 Buy Yamaha O.E.M Replica Plastics from MD Racing Products, the UK's Sole Importer for UFO and a leading off-road distributor for Motocross gear, parts and accessories offering some of the most competitive prices in the industry since 1983. We are a family business that's dedicated to the motocross industry, You Ride it? We can supply it!