UFO Gas Gas Plastic Kit OEM Factory
GAS Gas Plastic Kit (GGKIT703-999) by UFO Plast®. The UFO Off Road Plastic kits are th...
Read full details
Product Code:
GGKIT703-999
GAS Gas Plastic Kit (GGKIT703-999) by UFO Plast®. The UFO Off Road Plastic kits are the easiest and cheapest way to replace your bikes plastics. Here you can buy a basic replacement plastics kit for your bike made by UFO Plast, one of the best choices for off road spares and have the original factory shape of the according model.

With over 40 year's experience, UFO Plast Plastics have become the standard in replacement off-road replica plastics because they offer the highest standards of quality and fit and are less expensive than genuine Gas Gas plastics.

So if your looking for a replacement set of plastics for your Gas Gas motocross or enduro off road bike there really is only one choice, use what the factory teams and champions use and that's UFO Plast!.

UFO Plastic Kits for Motocross and Enduro are the best way to get your bike looking like new again. Whether it's a Honda, KTM, Kawasaki, Yamaha, Husqvarna, or Suzuki, UFO has your off road bike covered.

When you see the "Original Factory Colour" that is the OEM color that came stock on the bike which these kits replicate.
Features:
All Plastics are produced in Italy to the highest standards and are made from durable polypropylene.
Pre-drilled from the factory to bolt directly to original mounting locations for easy installation.
Designed to combine maximum functionality with eye-catching design.
The best colour match and fitting is always ensured by UFO Plast.
Guaranteed to meet or exceed the highest quality standards.
100% Made in Italy Since 1977
What's in the Box? Gas Gas MX Plastic Kit GGKIT703-999 Consists of Front Fender, Rear Fender, Side Panels, Radiator Covers, and Headlight Surround.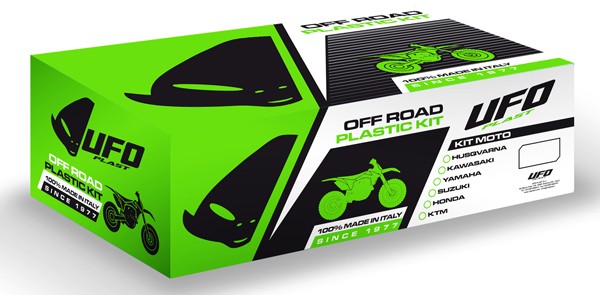 Plastic Kit Optional extras include: Fork Guards, Chain Guide Kit, Handguards and much more depending on your bike make model and year see selection above!

Buy Gas Gas Replica Plastics Kit from MD Racing Products, the UK's Sole Importer for UFO Plast and a leading off-road distributor for Motocross gear, parts and accessories offering some of the most competitive prices in the industry since 1983. We are a family business that's dedicated to the motocross industry, You Ride it? We can supply it!
Video
https://youtu.be/E6k61D1tUfQ