Muc-Off 10 Litre Nano Tech Motorcycle Cleaner
Muc-Off have now added Nano technology to their award winning cleaning formula. So why is ...
Read full details
Your price
Your Price
£49.99
£59.98
Save
17%
Muc-Off have now added Nano technology to their award winning cleaning formula. So why is Muc-Off with Nano better? Because the Nano sized particles contained in our revolutionary formula will remove dirt and grime with even less effort!
Using state-of-the-art Nano Tech formula, Muc-Off Nano Tech Motorcycle Cleaner cuts through grime quicker than you can say "OMG!" regardless of the weather or riding conditions. This classic pink bike cleaner has incredible cleaning power because it contains our revolutionary Nano Technology that breaks down dirt and grime on microscopic levels, while also caring for your motorbike's delicate finish. Because we use the finest ingredients and surfactants, our Muc-Off formula is a closely guarded trade secret.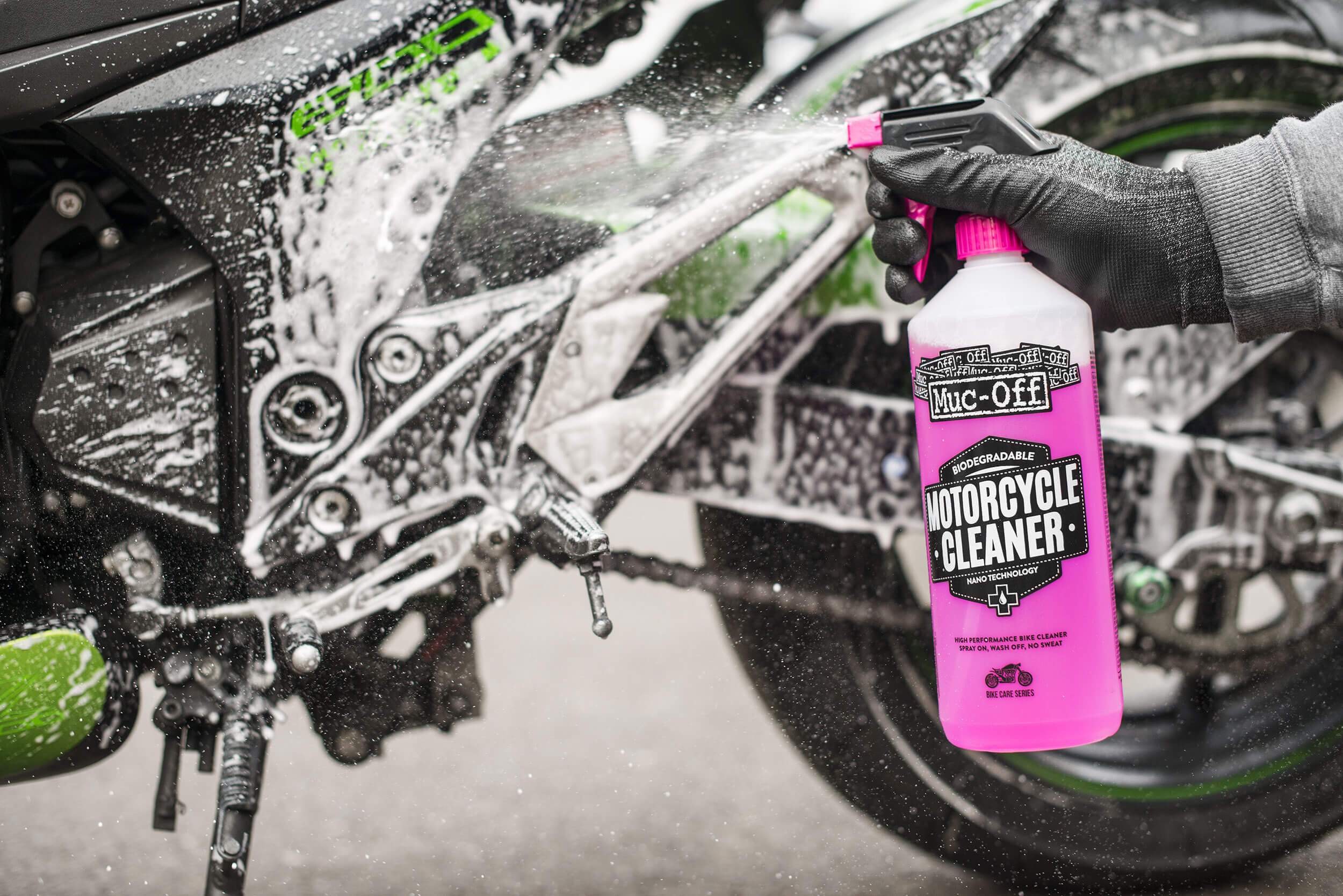 The UK's Number one bike cleaner! Muc-off is an incredibly effective cleaning formula that also cares for your bike's delicate finishes. It contains no harmful acids, CFC's or solvents so it's completely safe to use on all parts of your bike (including paintwork, aluminium, anodising, rubber, suspension seals, disk brake pads, leather, carbon fibre, composites and decals etc) and won't harm you or the environment. It cuts through dirt, oil and grime quickly and safely leaving your whole bike sparkling clean. Make life easy......try Muc-Off after your next dirty ride!
Muc-Off Motorcycle Cleaner features:
The most effective but gentle cleaning formula ever!
Safe on all parts and surfaces including carbon fibre
Will not harm seals, cables, brake pads or rotors
Safe on anodised metal
Alkaline based and free from CFCs, solvents or acids
Nano Tech Formula cleans on a molecular level
Environmentally friendly and fully bio-degradable
Available in 1 Litre, 5 Litre & 25 Litre Drum
Directions for Use:
Step 1 - Rinse motorbike thoroughly before applying Nano Tech Motorcycle Cleaner.
Step 2 - Spray Nano Tech Bike Cleaner onto the entire motorbike including components and leave for 3-5 minutes.
Step 3 - Agitate any stubborn grime with a brush or sponge.
Step 4 - Rinse entire bike thoroughly with fresh, clean water.
Perfect for: Off Road Motorcycles (Motocross, Enduro, Trial or Speedway), MTB Mountain bikes, Sidecars, Quads & ATV's, Road Motorcycles and even Stock cars!
Buy Muc-Off Nano Tech Cleaner in 5 litre from MD Racing Products, A leading off-road distributor for Motocross gear, parts and accessories offering some of the most competitive prices in the industry since 1983. We are a family business that's dedicated to the motocross industry, You Ride it? We can supply it!
Type
Cleaners & Degreasers
Video
https://youtu.be/Z42IQq6VtqU