100% Armega Falcon 5 HiPER Red Mirror Lens Motocross Goggles
Armega Dirt bike Moto Goggles by 100%. The ARMEGA offers premium technology through an inj...
Read full details
Product Code:
50720-357-02
Your price
Your Price
£116.99
£129.99
Save
10%
Armega Dirt bike Moto Goggles by 100%. The ARMEGA offers premium technology through an injection-molded, shatterproof lens that boasts anenhanced field of vision and impact protection. The 6-point locking-tab integration secures the lens and works in unison with a quick-change system enabling you to switch between lenses with a couple of simple clicks.
A bonded, dual-injected frame incorporates a next generation sweat management system that collects sweat as your ride intensifies and forces it away from the lens and out of the goggle through an integrated channel in the frame.
Force air intakes in the frame promote increased airflow to ensure fog-free vision, despite heated efforts overcoming sub-par competition.
Want a goggle designed to give it 100% deep in the battlegrounds of motocross? Look no further than the ARMEGA

HiPER Lens Technology

It's simple. Humans see three primary colours Red, Green and Blue. Human vision begins to distort where these three colours overlap. 100% HiPER Lenses proprietarily filter out these crossovers, resulting in greater contrast and even more vibrant colours.

By ramping up contrast, riders experience depth-defining vision with unmatched perception to feel every detail of terrain before commanding past it.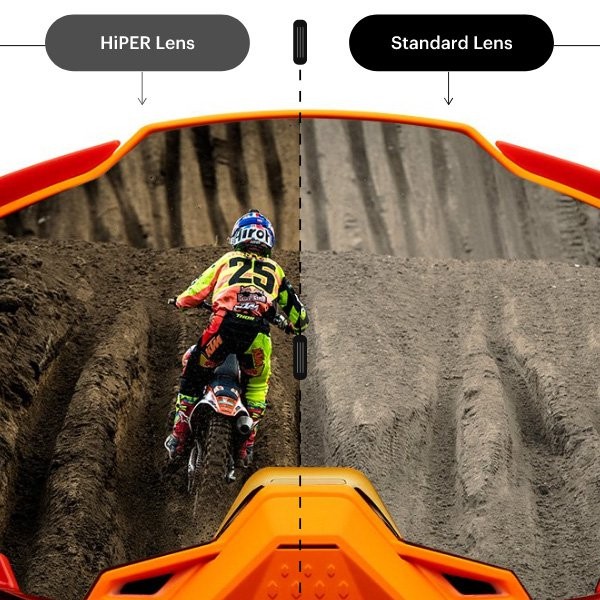 Ultra HD: Revolutionizing motocross vision technology.
A 100% Technology. Our signature 100% ULTRA HD lenses are the result of decades of passion, design, craftsmanship and research. Through extensive development and testing, we've engineered category defining technology bringing unmatched optical clarity to motocross.
Features:
Category defining ULTRA HD lens provides unmatched optical clarity
Quick-release system offers simple lens changing capability
6-point locking tabs integrate with quick-change system maximizing lens retention
Injection-molded 2mm impact-rated, shatter-resistant len
Bonded, dual-injection frame construction maximizes strength and durability
Force air intake ports increase circulation and maximize humidity evacuation
Contouring compression seal technology to keep goggles in place
Next generation sweat collection management and drainage system
Perforated triple-layer face foam manages sweat and increases ventilation
Ultra-wide 48mm strap with thick silicon bead for maximum grip
Removable nose guard for extra deflection against roost and debris
Supports triple post racing tear-offs (sold separately)
What's in the Box?: The 100% Armega goggle arrive with a Noseguard & Sublimated microfiber bag.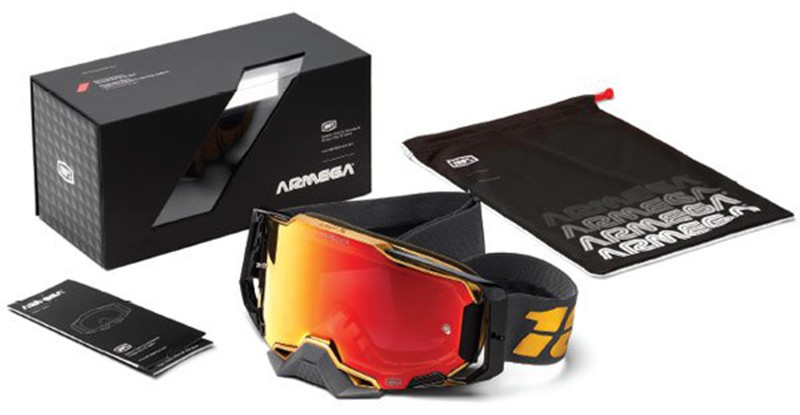 Why Ride 100 Percent?
The 100% brand has always been synonymous with motocross Americana and has been linked to many iconic moments that have built the roots and history of what is modern motocross. The roots of the 100% brand date back to the early 1980's when the popular logo graced the factory racing equipment of the biggest names in motocross.
Thirty years later the passion for the spirit of racing remains. Today, 100% is about to inspire a whole new generation of racers and ask them the original tag line, "How much effort do you give?" Whether it's a championship on the line or everyday life: If you aren't giving it 100% you will regret it!
Armega Goggles - Lens Change Instructions from 100%
Buy One Hundred Percent Motocross Goggles & Spares from MD Racing Products the Sole Importer for UFO Plast & the UK's No1 Motocross Parts & Accessories Store since 1983. We Won't Be Beaten On Price! Your Find great deals online & in store for 100% Motocross Goggles
Lens Colour
Hiper Red Mirror
Video
https://youtu.be/QFAjyhtsKZ0
YOU MAY ALSO BE INTERESTED IN THE FOLLOWING PRODUCT(S)